The spring 2014 UT Austin Landscape Master Plan focuses primarily on the quality and function of the physical campus environment. Landscape encompasses the aesthetic and practical makeup of campus trees, vegetation, the shape of the land, a diversity of fauna and unique features such as Waller Creek. The continued health and ecological function of our landscape reflects our commitment to operational excellence.
UT Austin recently recently was awarded a SITES v2 Gold certification for the 16.2 acres of the Dell Medical School Landscape in 2017. This was the first SITES Gold certificate in Texas.
Waller Creek
The first-ever Waller Creek Framework Plan was unveiled in Spring of 2019. The Walking Waller Creek self-guided tour is a great way to explore and learn about the urban stream and ecosystem that bisects UT Austin.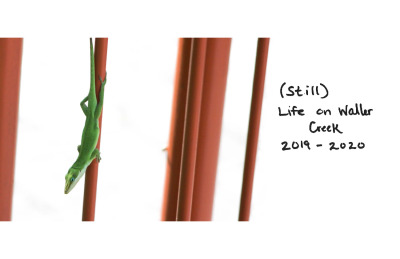 (Still) Life on Waller Creek provides a glimpse into the natural world of Waller Creek. Neuroscience and Mathematics senior Kathryn Gatliff captured the e-book's photographs and compiled artwork and other contributions from the UT community.